Why Are So Many Cars Being Recalled?
Safety recalls for automobiles sold in the U.S. are soaring, and that's leaving many consumers wondering whether the big numbers mean automotive reliability and safety are declining.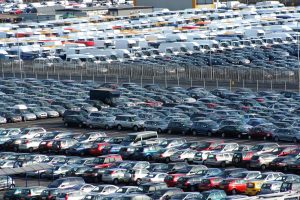 It's a valid question.
The number of passenger vehicle recalls in 2014 set a new record, 324 campaigns, exceeding the previous record of 224 campaigns in 2004 by almost 45 percent.
Worse than the climbing total of recall campaigns, though, is that the number of cars and light trucks subject to those recalls is soaring. More than 63 million passenger vehicles were recalled in 2014. That's more than triple the total for 2013 and slightly more than double the 30 million vehicles recalled in 2004.
…
That doesn't mean that car shoppers should put their buying plans on hold. Safety specialists, automakers and regulators alike insist that though the number and volume of recalls is record-setting, there is no indication that cars are less safe than in the past.
On the contrary, says Russ Rader, a spokesman for the nonprofit Insurance Institute for Highway Safety. "This doesn't mean that vehicles are getting less safe; it's just the opposite. They have never been safer," with the death rate of just 1 fatality per 100 million miles of vehicle travel, he says. That is the lowest mark since record keeping began.
At CAR 1, we have a policy to check every vehicle in our inventory for outstanding recalls and take steps to have recalls performed when necessary.