Farewell, Grandpa Ed (1917 – 2015)
by Chad D. Baus
July 23, 2015

Posted by

Chad Baus
Comments Off

on Farewell, Grandpa Ed (1917 – 2015)
Edward Daniel Baus, the 2nd generation of our family business, went to be with the Lord today, July 23, 2015.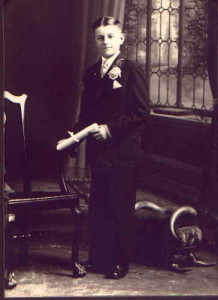 Grandpa was the first generation of our Baus family to be born in America. He was the son of German Lutheran immigrants who had been living in Donhof, near Saratov, in the Volga River region of Russia. They emigrated to the United States one month before the Titanic disaster to escape religious persecution by the government. Grandpa first learned English when he went to public school in Wauseon, OH.
When Grandpa was 14, he began working on a farm ten miles away from his home – a farm in Burlington, just north of Archbold. He began attending school in Archbold his junior year and met his future wife, Leanna Nofzinger. The couple were married on March 4, 1939. Grandma preceded him in death by 21 years.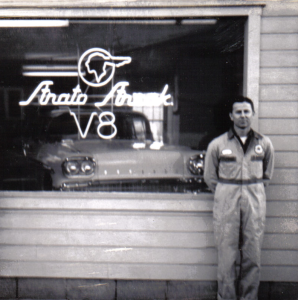 It was Leanna's father, C.J.. and his brother John, who founded our family business, originally called Nofzinger Brothers. Grandpa went to work for the Nofzingers in 1939, and eventually took over the business with a partner when the founders passed away. The company was incorporated in the 1950's as Nofzinger Motor Sales Inc., a name we still hold today, even though we do business as CAR 1. He became the sole owner of the business in 1967 after the death of his partner.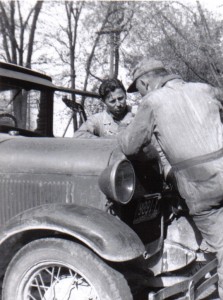 He was an extremely hard worker. Grandpa said that in the early days of the family business, they worked six full days per week, taking off only on Sunday to attend worship services and enjoy some much needed rest. The business operated as both an auto dealership and a salvage yard.
As owner, Ed sold cars and continued to work in the shop as a mechanic.
Even after his son Larry purchased the business in the 1980's, Ed continued to come to work every day. That pattern of hard work continued as my brother and I – his grandsons – took over the business in 2012.
In fact, Grandpa worked at the business until two days before his death, and when he went home from work that day he trimmed shrubs around his famously-tidy lawn.
We are thankful for the work ethic this man instilled in his children, grandchildren and great-grandchildren. (This summer Grandpa got to work alongside the 5th generation – my son Daniel, who is working part-time.)
We're even more thankful for his leadership to our family as a follower of Christ.
God gave our family 98 years, 3 months and 21 days to spend with Grandpa, and we are thankful for each and every one.